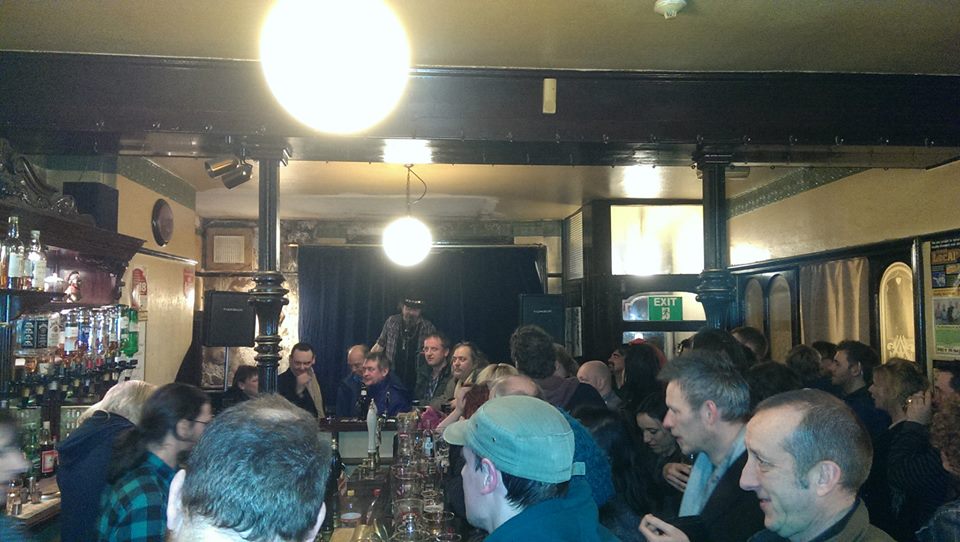 On Saturday 1st Feb, the landlord of my local pub, Jim Whiteside of The Moorbrook Inn, Preston, finally called time after 16 years behind the bar and headed off to enjoy his retirement. It was a night of tears, laughter, and great drinking prowess, and by the hour of closing, we'd drank the place completely dry. We played music, danced on the bar, sang songs, made promises.
I was asked to make a speech. This is what I said.
 "Pif Paf Poof".
It's weird, looking back now, that that's how it started, but that's exactly how it did. I was homeless, friendless, and without prospect. They were the very first words that I ever heard from the mouth of Jim Whiteside, landlord of The Moorbrook, who'd been listening to my tale of woe while we had a fag outside the front door of the above establishment.
"Say what?"
"Pif Paf Poof".
As if to illustrate, he waved his hand in the air. I guffawed at him.
"What does that mean?"
He took a drag on his fag, and viewed me with a suspicious eye.
"You've been whinging about yer problems for the last ten minutes. Tell me something – can you do anything about 'em?"
"No".
"Can you change 'em?"
"No".
"So why are you worrying about em?"
I scratched the nape of my neck.
"I dunno".
"So there we are, then. Just let 'em go. Pif Paf Poof".
And that's how I met Jim Whiteside.
The best advice anyone's ever given me, ever. Works for anything.
So, how do we tell our story, then?
Well, all the cool kids gathered in their bars and formed a scene, and best of luck to 'em. But we drank together, after hours while the world slept. Nick Duffy, James Hull, Jenny Sugarmouse, Moggy, Lester.. all those of us who didn't wanna be part of any scene sat down together at the bar and without realizing it, created a community.
Jim built me a bike. In fact, he built bikes for everybody. I cycled all across the north of England on it for two years with nothing but a guitar and tent on my back. We watched the Tour De France every year together on the bar TV, the front door locked to anyone but us. Watched every Olympic event. Moved pianos, organs, hosted impossible music nights that we never gave a shit about publicizing.
For years, whenever someone asked a question that we didn't know the answer to, we just answered, "Ecclefechan George." Christ, we even made up a whole backstory for the place. Imagine our faces when we discovered that Ecclefechan actually existed – I got on my bike and cycled there, for fuck's sake!
And there it is, there's the very essence of the place. Always a place to go, when you need a  buddy and a pint, no matter what the hour. Over time, I became part of the furnishings, and the Moorbrook became my front room. I'd finish work, grab a bite to eat, then head over to sit in my corner next to the bar, either with my laptop or my guitar in my grasp, always working on some writing or some song. Hell, I captured the place and Jim and I's friendship perfectly in a novel, "The Girl Of Your Dreams". As we speak, it's in the hands of agents, looking for a home on your bookshelf. Because our friendship – and this place, this crazy little place in which we meet, we Irregulars, we cast – offs, is too good to just lie on a corner of the internet somewhere. It deserves a push, it deserves recognition. And I'm gonna go hand over fist to make sure it gets it.
Excuse me, I'm getting ahead of myself, here…
So how do we sum all this up? Well, we sum it all up in the friendships, and the gap it's gonna leave tomorrow. We sum it up in all the times we've danced on the bar at four am, our heads clattering against the tankards dangling from the ceiling. We sum it up in all the barroom arguments we've had, all the times we've used barstools as drums to play along with whatever songs we've felt like singing. All the times we've had a beer and watched the snooker, or the fast show, or a boxset of the Sopranos. We sum it up in the great beer we've sampled, night after night after night after night…
 From tomorrow, there'll be no place for me to come and unwind after a gig, nowhere for me to hear a voice in the loneliness after I haven't spoken to anyone for 24 hours.
When Jim first told me, six months ago, that we were drawing to a close, I stifled tears. I'll be honest, I stifled tears, and made plans to get the hell out of Preston. I've been saying for years that when Jim closes, I'll be moving on, and I realized that this was life's way of telling me to do so.
"Who the bloody hell will I go out for a pint with, then?" Jim demanded.
You see, that's it, right there. I'll miss the place, by God, I'm gonna REALLY miss the place. But you see, from tomorrow, we're out in the world. Finally after 16 years, Jim's getting to come out with us and see what the world looks like at night.
So ladies and gentlemen, raise your glasses tonight… to ECCLEFECHAN GEORGE!
And let's take Jim out from behind that bar, and out with us into the world.
You're feeling sad that things are all drawing to a close? That's ok. I'm lost inside, I'm wondering what  I'm gonna do after work every night… but I know it's gonna be ok. Because I'm going to be out there with my best mate at my side, and there's a hell of a lot for us out there to do.
If you're feeling sad… that's ok, because we'll be out there with you. In fact, take your sadness, and your problems, and let's wrap 'em up in three words.
Pif Paf Poof.
UPDATE – The Moorbrook is now open once more, serving a fine selection of ales and food, and a fine establishment it continues to be. I'm obviously a Thwaites man, but I can recommend Moorbrook pilsner for those hot nights when ale sits a little too heavily. The new manager's a fine gent named Rick, and here's a slightly blurry picture (phone camera's hopeless) of the old Gaffer and new blood together: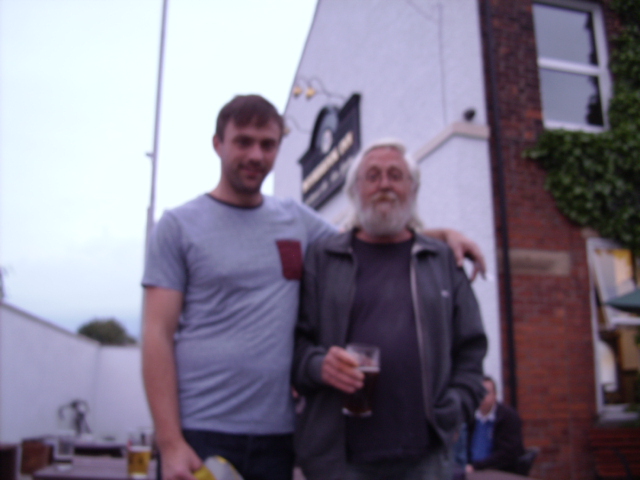 Drop by on a Monday night and chances are you'll find the Gaffer and I out back, strumming some quiet tunes and enjoying cool beer in the flickering firelight of  the Chimnea. Don't be afraid to come and join our circle.
S.